Welcome to Judaism Your Way
We're thrilled that you're here to explore everything we have to offer. Let us share our story, who we are, and what we're all about!
We embrace and provide a unique Jewish experience through a modern, community-focused approach. What does that mean? No traditional building. No memberships. Not ever having to worry about dues. And open arms to all who wish to participate, however you wish to participate, just as you are. So, you can dive right in and enjoy the meaningful and relevant Jewish connection you seek.
Our Jewish community is getting more diverse by the day, and at Judaism Your Way, we're all about showing how embracing that diversity and sharing the richness of Jewish history, tradition, and culture can make our entire community stronger.
Mission & Vision
At Judaism Your Way, we're an open tent, embracing everyone who seeks a connection to Jewish life.
Every day, we share transformative Jewish experiences and recognize ourselves as part of something relevant, whole, and sacred.
There are many ways to be Jewish. At Judaism Your Way, we respect and include them all.
We want everyone to connect with Judaism in their own way. We're all about creating a welcoming space for (but never limited to): Interfaith couples and families; LGBTQIA+ individuals; couples and families; Jews and loved ones of color; Cultural Jews; Spiritual seekers; People whose identity includes Judaism and other traditions; and, if you're reading this, YOU!
No matter who you are or where you come from, we are here to explore Judaism together.
Our Values
Include & Expand
We believe in extending the warmest of welcomes to all who come. This means that no matter what people bring—different backgrounds, experiences, understandings—we greet them where they are, without seeking conformity. We invite people to feel included for who they are and to extend that inclusion to each other.
Foster Belonging
We understand the fundamental human need for belonging. We foster belonging by connecting with our neighbors as a community—to understand, empathize, and share experience. We foster belonging by connecting spiritually, with humankind, with nature, with the earth, and ultimately with ourselves. We connect to the profound richness of the Jewish culture and faith, while belonging to the future evolution of Judaism. And we know that Judaism belongs to us all.
Lead with Courage
Together, we courageously lead the way—creating a world of kindness and compassion. We're compelled to engage as caring and responsible citizens of the world, joining hands for the common good. We look to Jewish wisdom to enrich our own and each other's lives with meaning and purpose, grounded in the oneness that connects us all.
Create Meaningful Experiences
Being engaged and connected as part of something whole and sacred—this is our goal. We understand Judaism as a relevant and meaningful path of human evolution. We believe in a Judaism beyond fear, defined by inclusion, acceptance, and love. We're here to learn from centuries of Jewish teachings and evolve our practice for the future. We're here to transform the experience of what it means to be Jewish.
Be Generous of Spirit
Judaism Your Way is founded on the generosity of Abraham and Sarah's open tent. We believe that generosity means everyone is welcomed and embraced wherever they are on their Jewish journey. We powerfully manifest generosity in everything we do. Our services are inspired by a spirit of giving, starting with free High Holidays. Our relationships are rooted in care, compassion, and connection. And our vision for Judaism is expansive in all that it can be.
Our Philosophy – The Torah of Inclusion™
For the last 20 years, Judaism Your Way has been spreading love, joy, acceptance, empathy, and respect in the Jewish community and with our loved ones. Every day, we embrace new, creative ways of being and doing Jewish, redefining who belongs in Jewish spaces, what Judaism can feel like, and who it should serve. It became our mission to be as welcoming and expansive as possible, leading to the creation of The Torah of Inclusion™.
Get ready to dive into a whole new perspective on inclusive Judaism.
Meeting People Where They Are
Bringing About Full Inclusion
Build Community From "Me" To "We"
Inclusion Outside of Our Work
Ever Evolving And Changing
Our Story
For two decades, we've been reimagining a Judaism that's alive, dynamic, and in tune with each person's unique journey. Our amazing rabbis are there to officiate life events and provide spiritual guidance whenever you need it. We go above and beyond by offering a wealth of Jewish educational opportunities and unforgettable holiday celebrations in inspiring settings. Check out some highlights we've experienced over the last 20 years.
2003-2009
Since our inception in 2003 by interfaith couple Don and Susan Sturm, Judaism Your Way has been leading the way in the expansion of the Jewish spectrum and experience, offering a wide range of programs and events to anyone craving that special Jewish connection. Our signature High Holiday services in beautiful outdoor settings began almost immediately, introducing the Colorado community to our maximally inclusive philosophy.
2010-2018
In 2010, we launched the first iteration of our Open Tent Be Mitzvah program, with just 3 students and 1 rabbi. Our dedication and impact were recognized by the esteemed Slingshot: A Resource Guide to Jewish Innovation, with accolades in 2011, 2017, and 2018 for our outstanding efforts in reaching Jewish populations previously disconnected from Jewish life.
2019-2020
Our commitment to innovation led us to be selected for cohort 11 of the prestigious UpStart Venture Accelerator in January 2019, solidifying our position as trailblazers in the Jewish community. That same innovation and nimble spirit allowed us to evolve through the COVID pandemic, shifting our signature High Holiday services and year-round programs to livestreaming and virtual platforms. For the first time, thousands were able to join us from nearly every US state and more than 10 countries – launching Judaism Your Way into a national spotlight and creating a global community.
2021-2022
As more and more people experienced our services, lifecycles, and programs, we kept hearing the same question: "What's your secret sauce?" In 2021, we formalized our philosophy called The Torah of Inclusion™ and use it as our north star – both in how we craft transformative and joyful experiences and in how we envision the future of Judaism. In 2022, our Board of Directors approved a strategic plan to guide our work through 2025, detailing four distinct goals to maximize our financial sustainability, expand our programmatic reach and impact, elevate our presence, and strengthen internal resources.
2023 and Beyond
The Judaism Your Way community continues to grow and thrive! We were selected as one of 15 Jewish organizations to participate in Project Accelerate, a two-year cohort-based program that builds the capacity of high-performing, innovative, small, and mid-sized organizations in the Jewish community that are poised to enter a new stage of growth and development.
Our Open Tent Be Mitzvah program, now serving 100 students each year, was recognized by The Jewish Education Project as a model that is "thriving in action" by putting family at the center, adding value to a family's life, affirming diverse people and families, elevating cultural identities, and redefining the role of teacher and learner.
We are on track to complete our Mitzvah Your Way endowment campaign by 2025, ensuring Judaism Your Way can meet the needs of our community not only today, but for decades to come.
Latest Thoughts
At Judaism Your Way, our community does it all – we gather, celebrate, learn, and support – so we always have lots to share! Explore our latest news, announcements, and all the things that bring us meaning and joy.
The Torah of Inclusion™
Shavuot
Counting the Omer, Netzach Sheh b'Netzach
Mishloach Manot and Building Community
Join our Newsletter
We think you're great, so let's be friends! Stay up to date on news and events with our newsletter.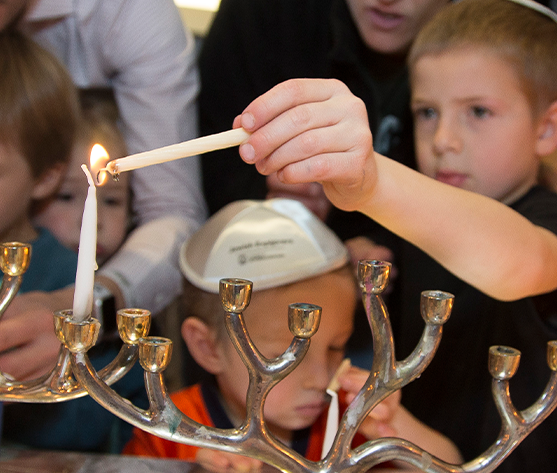 Get in Touch
We love to hear from our community, which is YOU! Whether it is to just say hello, ask a question, or you're looking for something that you can't find, we encourage you to be in touch.