The arrival of a child is a breathtaking blend of the physical, emotional, and spiritual. It's a moment filled with awe, love, tenderness, and responsibility.
Our rabbis are thrilled to officiate baby naming ceremonies that warmly acknowledge your new or deepening role as parents, and welcome your little one into the world. These ceremonies symbolize the baby's entry into what we call the brit or covenant – a deep connection to our shared past and a meaningful participation in something sacred and whole, while bestowing their Hebrew name.
A Jewish baby naming ceremony captures three significant elements.
Welcoming the baby to their embodied life, made of family, community and humanity.
Bringing the baby into the brit (covenant) – being connected to the Jewish people and belonging to something sacred and greater than oneself.
Bestowing the child with a Jewish name that carries the essence of our covenantal tradition.
We're here to make this momentous occasion truly special, reflecting your family's values and celebrating the miracle of new life. Let's embark on this extraordinary journey together, creating cherished memories that will last a lifetime.
Fees
Fees include up to two one-hour meetings and ceremony officiation.
Ceremonies in Colorado within the 7-county metro Denver area: $500.
Ceremonies outside of the 7-county metro Denver area: $500
Plus other expenses as mutually agreed upon including but not limited to travel, airfare, lodging, and transportation.
Want to learn more about ceremonies and rituals that celebrate the new life in your world? We are here to help! Please complete the inquiry form through the button below.
The Traditional Ritual of Circumcision
When it comes to the traditional ritual of circumcision, known as milah in Hebrew, Judaism Your Way is here to provide you with information and resources to help you navigate this important decision. We want to assure you that if you prefer not to include the circumcision aspect in your ceremony, our rabbinical team offers alternative options. We understand and respect that every family has unique preferences and beliefs, and we are here to support and guide you in creating a meaningful naming ritual for your child.
In accordance with this covenantal tradition, a mohel or mohelet (mohel/et) is a specially trained individual who performs circumcisions. Here are some local certified mohalot who may be able to assist you:
Each mohel/et operates based on their own understanding of Jewish law and practice. If you're an interfaith couple, we recommend confirming with the mohel/et that they are able to perform this Jewish covenantal ritual for your child.
It's worth noting that some pediatricians may also offer this service. Please keep in mind that while we provide these names as informational resources, we do not specifically endorse any particular mohel or mohelet.
Celebrating The Birth
For families with baby girls, we acknowledge that, for most of Jewish history, there wasn't a parallel covenantal ceremony to celebrate the birth of a girl. However, over the years, several beautiful ceremonies have been developed to celebrate and welcome baby girls into the world. We have been honored to officiate at naming ceremonies for babies ranging from 8 days to 3 years. These ceremonies are also available for boys if parents decide not to circumcise. Our rabbis are more than happy to work closely with you to determine which ceremony best aligns with your family's wishes.
Adoption
We also offer naming ceremonies for parents who are adopting a child. If your child was born to birth parents who did not identify as Jewish, you may wish to explore the option of formally converting your child to Judaism. Please reach out to learn more and explore opportunities for this journey.
Choosing a Hebrew Name
When it comes to choosing a Hebrew/Jewish name for your child, there's no one-size-fits-all approach, but plenty of customs and options to consider in selecting a name filled with meaning and connection.
One common practice is naming a child after a relative, either in full or honoring with just the same first letter. In Ashkenazic tradition, it's common to name a child after a deceased relative, while in Sephardic tradition, it is selecting a name connected to a living relative.
Others choose to give their child a Hebrew name that corresponds to their English name, finding a harmonious bridge between the two languages. And some explore naming a child after a relative who may not have a Hebrew/Jewish name. In such cases, you can honor them by giving your child a Hebrew name that starts with the same letter or even choose a name that carries a similar meaning to the relative's name.
Remember, this naming journey is an opportunity to celebrate your family's heritage and create a special bond with your child through their name. We encourage you to explore different customs, consult with loved ones, and find the perfect name that resonates with your unique story and values.
Join our Newsletter
We think you're great, so let's be friends! Stay up to date on news and events with our newsletter.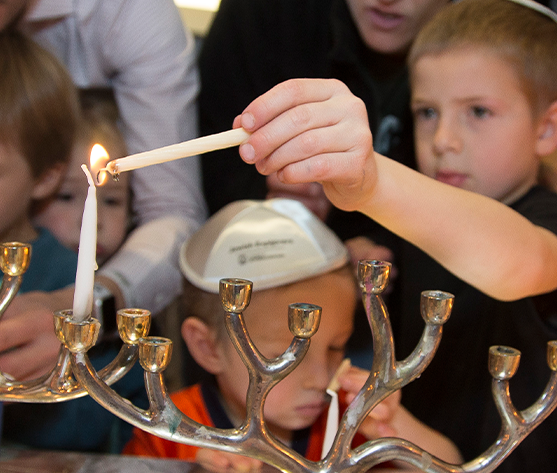 Get in Touch
We love to hear from our community, which is YOU! Whether it is to just say hello, ask a question, or you're looking for something that you can't find, we encourage you to be in touch.